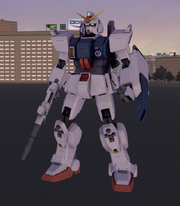 | | |
| --- | --- |
| Model Name: | RX-79(G) |
| Unit Name: | Ground Gundam |
| Radar: | 1800m |
| Stock Engine: | MS HB Lv. 2 Type C Engine |
| Carry Weight: | 95,000 kg |
| Stock Price: | N/A* |
| Store Sell: | |
| Skills Required: | Mobile Suit: 18.0 |
| Weapon Slots: | Manipulator x4, Body/Chest x1 |
Rx-79(G): The only Ground Type GUNDAM and the weakest GUNDAM out of the GUNDAM series ever produced and manufactured throughout the UCGO and the Anime Series "08th MS Team",this GUNDAM is favorited by many experienced players since of its cheap price and durable terms of effects and one of the most used Mobile Suit's in the game, The Rx-79(G) uses a HB type engine rather than a TJ/TR engine since of this superior type. The GUNDAM has a well balenced stat, especially with good armor durability follow up by accuracy,dodge and so on, unfortunately the GUNDAM only has a "Level 2 Type C HB Engine" But players should be aware of the cost of the GUNDAM since it can vary as price is different among Mobile Suit crafters as the RX-79(G) has a very low success rate of being manufactured.
The Rx-79(G) has the potential to carry most of the Beam,Rifle,Cannon and Bazooka type equipment,that are sold in stores, the Gundam requires 18.0 Mobile Suit points in order to pilot,if the requirements are not met movements and firing accuracy are deducted. There are currently three version similar to the Rx-79(G), One alternate version would be the RX-79(G)-GM Head-, a slightly lower version of the origin but its still capable in its stats but only requires 0 Mobile Suits to pilot,the other version is the RGM-79-GM(G) which basically is the "Mass Produced" Version of the RX-79(G) and require 4.0 Mobile Suits to pilot. The Last version would be the Superior Mobile Suit, the RX-79(G)-Ez-8-, which requires 20.0 Mobile Suit Points, this Mobile suit can only be produced by Junk Parts, therefore its one of hardest suits to be manufactured inline with the RX-78 Series, The EZ-8 has the same potential to carry the origins of the RX-79(G) but it has another potential to carry a sniper rifle which pretty much to be the only GUNDAM to ever carry a sniper other than the RGM-79-Sniper II.
It, cannot be used for space combat since its not manufactured to adapt space as its only a Ground Type unlike the other GUNDAM types which are capable of Space and Ground battle which are the RX-78-1, 2, 3 Class.

Note:For More Information about RX-79(G)-Ez-8- link it here(http://ucgops.wikia.com/wiki/RX-79(G)_Ez-8 )
Alternate Colors
Edit