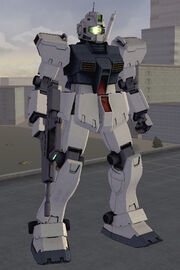 | | |
| --- | --- |
| Model Number: | RGM-79C |
| Unit Name: | GM* |
| Radar: | 1800m |
| Stock Engine: | MS/MA TJ Engine typeC lv.2 |
| Carry Weight: | 90,000 kg |
| Stock Price: | 2,500,000 EF$ |
| Stock Sell: | 384,000 EF$ |
| Skill Required: | Mobile Suit: 4.0 |
| Weapon Slots: | Manipulator x4, Head x1 |
*GM Modifed; Also Known as GM Kai
Unit Information
Edit
Spec Sheet

| | | | |
| --- | --- | --- | --- |
| Armor | Dodge | Critical | Accuracy |
| 6 | 7 | 4 | 6 |
The RGM-79C GM Modifed, or most recognizable as the GM Kai, is one of the 'better' GM units in UCGO. Only one point of difference in Armor compared to the RGM-79(G) GM Ground and noticable lower MS Skill requirement, the GM Kai is a highly favored mobile suit of choice for EFF players. However, though appearing a fraction of difference, the GM Kai's actual performance vs. a GM Ground are different, with the GM Ground being far more durable. Inexspensive to craft yet useful, the GM Kai is efficent as a 'hybrid automobile' of price and performance.
Also featured in Gundam 0083: Stardust Memory.
After the recent update, The GM Kai's Mobility has been increased. This applies to old and new GM Kai units.
Recommend Crafted Builds
Edit
-Though difficult to find crafters, many find a L3E 107 combination efficient.
Alternate Colors
Edit